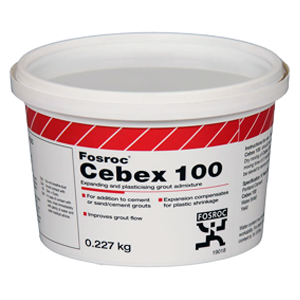 Cebex 100 Grout
Price And Quantity
Piece/Pieces,

40.00 - 140.00 INR
Product Description
Expanding & Plasticising Grout Admixture
Description:
Cebex 100 is supplied as a powder admixture..
The plasticising agent allows the use of a reducedwater/cement ratio with consequent increased strengths and durability. Theexpansive medium counteracts the natural settlement and plastic shrinkage ofthe grout and aids stability and cohesion.
Sufficient restrained expansion is developed toensure a high degree of inter facial contact.
Gaseous expansion system compensatesfor plastic shrinkage and settlement in properly designed cementitious grout.

Composition allows high earlystrength development in grouts, without the use of chlorides.

Reduced water/cement ratio in thegrout mix ensures low permeability and long term durability in service.

Gives high grout fluidity with lowwater/cement ratio, thus making placement or injection of the grout easy.

No metallic iron content to corrodeand cause staining or deterioration due to rust expansion in the grout.

Advantages:
Gaseous expansion system compensatesfor plastic shrinkage and settlement in properly designed cementitious grout.

Composition allows high earlystrength development in grouts, without the use of chlorides.

Gives high grout fluidity with lowwater/cement ratio, thus making placement or injection of the grout easy.

No metallic iron content to corrodeand cause staining or deterioration due to rust expansion in the grout
Contact Us
Regd Off : Plot No. 8-B, 1st Floor, Nand Vihar, Behind Dwarka Metro Station, Kakrola, Dwarka, New Delhi, Delhi, 110078, India
Phone :+918037268661