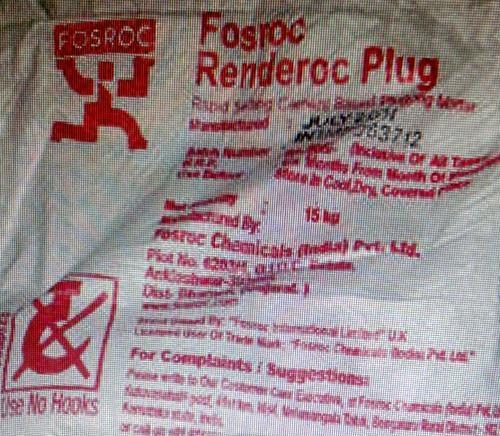 Plugging Mortar
Product Description
Renderoc Plug issupplied as a ready to use blend of dry powders which requires only theaddition of clean water at site to produce a highly consistent, rapid settingmortar which is easy to apply in many difficult conditions. The material isbased on a blend of cements, graded aggregates, special fillers and chemicaladditives which control the rate of set and minimise the risk of thermalcracking.

Uses
the rapid temporarypatching and plugging of concrete segments, concrete and brick tunnel linings,sewage systems, below ground access chambers, pipes, basements, foundations andmines.

Advantages
Emergencywater - stopping capability
Excellentbond to the substrate
Coinsno chloride admixtures.
Singlecomponent - only the addition of clean water is required.
Lowexotherm minimises thermal cracking
Pre-packedformulation to overcome variation in site batching
Contact Us
Regd Off : Plot No. 8-B, 1st Floor, Nand Vihar, Behind Dwarka Metro Station, Kakrola, Dwarka, New Delhi, Delhi, 110078, India
Phone :+918037268661